Colored lenses that fit your daily life
by Optoplus / June 2021
From staring at screens to hanging out on patios, lenses that adapt to light conditions provide daily optimal visual performance. Your eyes are protected inside and outside. Say goodbye to eye strain because the patented light intelligent smart adaptive lenses easily adjust to shifting light conditions and will darken or return to clear faster than ever before. Photochromic lens molecules block 100% of UV rays and protect your eyes from harmful blue light emitted by screens.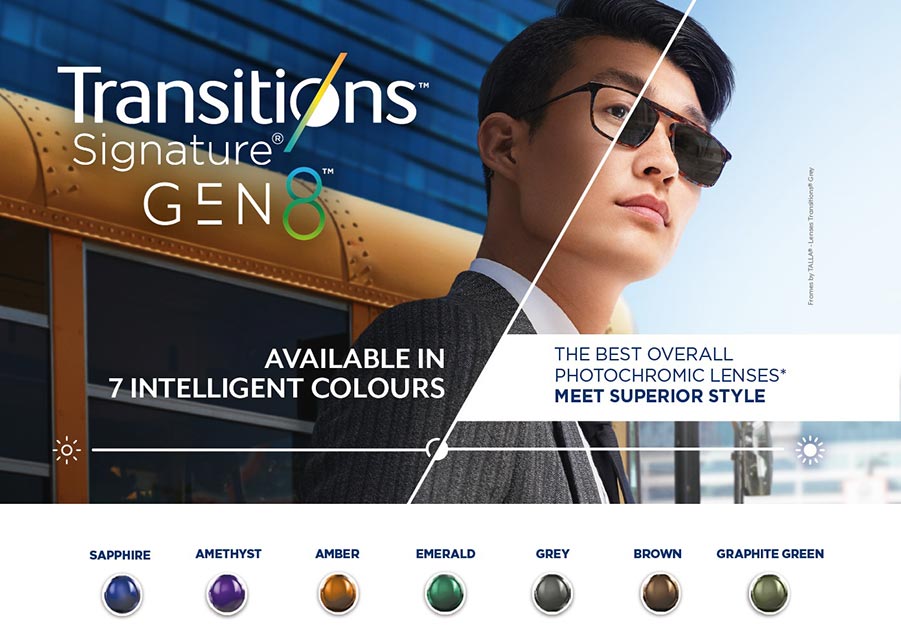 What's more than tint, lenses come in a wide variety of colours to choose so you can customize your look with a lens tint that suits your tastes—and complete the style by choosing a frame that's classic, modern, or bold.
More than just a fashion accessory, Transitions® offers many lens colours, and each colour has unique characteristics to go with your day's mood.
What tint are you?
GREY : Always, forever

Grey is a cool, neutral, and balanced color. The color grey is a timeless and practical color that is typically associated with meanings of formal, conservative, and sophisticated.

From dark grey to light grey, the color can be seen as both masculine and feminine in nature.

BROWN : The warm colour

This classic colour is well-suited for driving, it promotes concentration by heighten contrast in harsh weather conditions or during overcast days. In the absence of direct UV rays on the lenses, they will not activate.

Similar to gray, brown is another true neutral lens color, but one that is more on the warm side.

GRAPHITE GREEN : Nature and authenticity

Green stands out with its parade of references to "nature", it is in the middle of the visible spectrum between infrared and ultraviolet: it is the color of balance.

More classic than emerald, graphite green is a timeless color that has an affinity with sports frames. offer a great color balance for natural vision while increasing contrast, particularly in the blues and greens common in outdoor scenery.
Want to be unique?
SAPPHIRE : Between sky and ocean

Consensual color, blue flows naturally, it evokes infinity and the cosmos, connects the sky to the ocean. Blue reflects more than it absorbs light, which is why even dark, it maintains a fresh appearance.

In the "sapphire" shade, it is its purest since it comes from the ancient Greek "sappheiros" which means "blue": timeless and never out of fashion.

AMETHYST : Trendy look and pop colour

Amethyst is a hypnotic color, currently the must have to complement a trendy look. Bright, deep, intense, this color, a synthesis of red and blue, is surrounded by a creative and pop aura that illuminates classic frames

AMBER : Comfort and to go off the beaten path

Evoking the sun, amber is the color of fundamental energy, it reassures and attracts attention without being aggressive. Symbol of movement and warmth, this comforting color for the eyes creates an interesting twist for those who want to go off the beaten path and spice up their look with a dynamic glow.

EMERALD : An oasis in the desert

An indispensable classic in accessory trends, green works wonderfully as an accent to better stand out like an oasis in a desert. The minerality of the emerald green brings a precious dimension that can impart real modernity to an ultra-design frame.
OPTOPLUS clinics offer a wide selection of tinted lenses, such as the Transitions® lenses from Essilor.
Share this article