Interview with The Most Beautiful Eyes in Quebec
by Optoplus / October 2020

1. Let's start by talking about those eyes of yours!
I would have to thank my mom for the shape and size of my eyes. The colour, however, is quite the mystery. My mom's eyes are brown and my dad's are blueish-grey… mine are a wonderful medley of green, gold and brown.
2. What made you enter our contest?
During a team meeting, a colleague randomly commented on how beautiful my eyes were. The next day I heard about the contest on the radio and decided to try my luck based on her sweet comment!
3. How did you react to winning the contest?
I was not listening to the radio* when they announced the winner, my colleagues actually told me I had won. At first, I didn't believe them. It wasn't until I saw the post on the OPTOPLUS Facebook page that I realized I was the grand prize winner. I was so ecstatic that I celebrated with a friend that night.
*The contest winner was announced on Rouge FM, during the show Véronique et les fantastiques.
4. How did those around you react when you announced you had won?
I was bombarded with well wishes from friends, colleagues and family. They were all so happy for me and very proud (especially my boyfriend). Even my 80-year-old grandma shared the news on her Facebook! (laughs)
5. Do you mostly wear glasses or contact lenses?
I prefer contact lenses as I would rather not obstruct my eyesight with frames. Wearing contact lenses suits my lifestyle and makes my daily life easier. The funny thing is that I was already familiar with the MediflexTM brand as I have been wearing them for several years now. I am loyal to this brand as they are comfortable and affordable.
6. How was your experience in the brand new OPTOPLUS clinic in Trois-Rivières when you went in to spend your OPTOPLUS gift-card?
I was made to feel very welcome each time I was there. Service was prompt and professional. I decided to purchase a new pair of glasses to give my eyes a little rest every now and then. The last pair I purchased was in 2013 so I needed some guidance as to the latest trends in eyewear! (laughs) I was able to count on the valuable advice of optician Stéfanie Laflamme.

7. What was your photoshoot experience like?
Nothing but wonderful! As it was a first for me, I was quite nervous. I had come with my own cheering section (my boyfriend and daughter), but as soon as I arrived, the entire team made me feel at ease and I had an amazing experience. The photographer's direction really helped, and I was able to remain natural.
8. What was your favourite part?
The entire experience as well as the behind-the-scenes. All the work that goes into a photoshoot is quite impressive. Honestly, I had no idea that so many people were involved in making a photoshoot happen. Photographers, hair and makeup artists, stylists, props master, opticians, coordinators, social media manager and so forth. They were all so nice to me and my family. I loved being able to chat with the Marketing Director at the end of the day. I was lucky enough to witness people who are passionate about their profession; people who work as a team to achieve a goal.
9. How do you feel knowing that as the new MediflexTM brand ambassador, your photo will be featured in all OPTOPLUS clinics?
I think I still can't believe it. I am both humbled and proud. I entered this contest on a whim, following a colleague's comment on my eyes. I was already surprised to be amongst the finalists. When I saw the others, I never guessed I had a chance at winning. I will cherish this experience for years to come.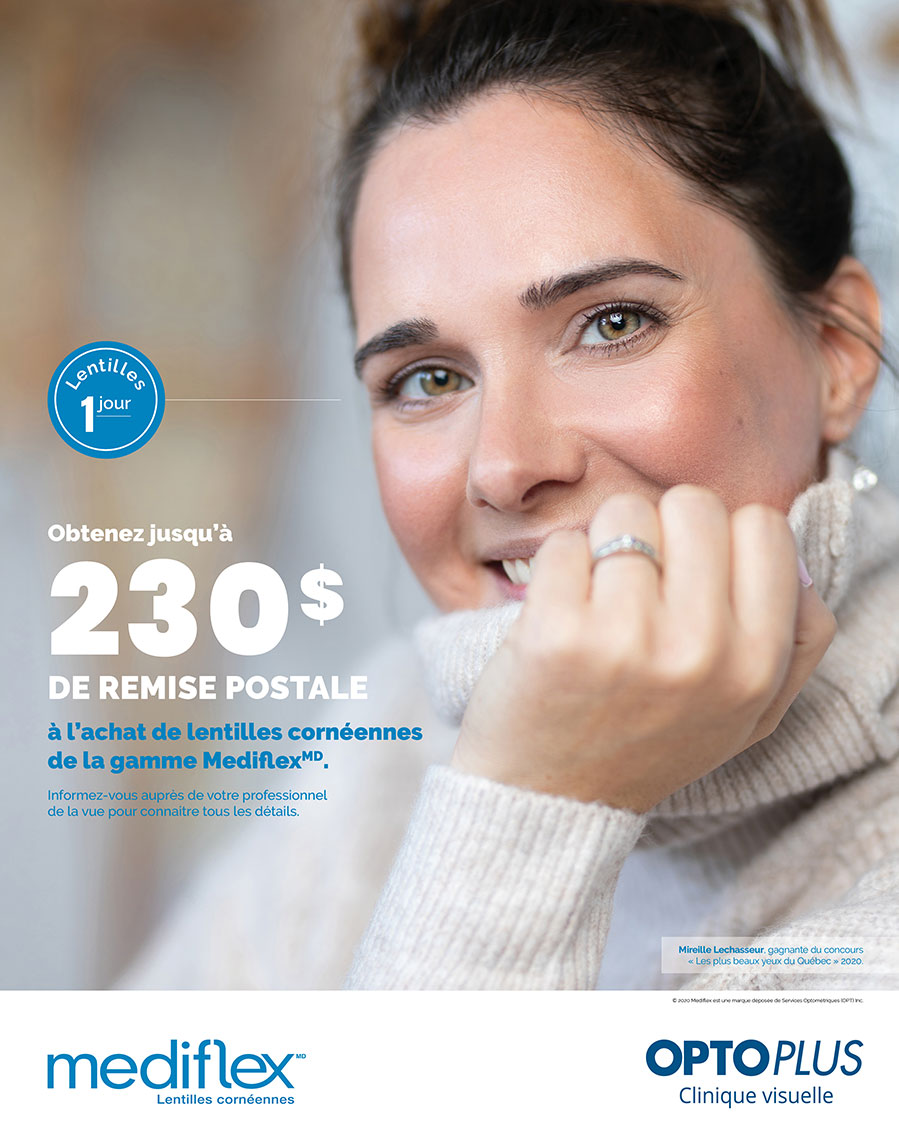 10. Is there anything you would like to add?
There's a saying that goes "What one may think is chance is often a sign of fate". Two days before the winner was announced, my 6-year-old daughter, Mariella, was diagnosed with hyperopia and we were told she would need to wear glasses. My succession at OPTOPLUS is now assured as she will undoubtedly be a future wearer of MediflexTM contact lenses.
To learn more about the MediflexTM contact lens products, read our last blog post!
Share this article